Showing the single result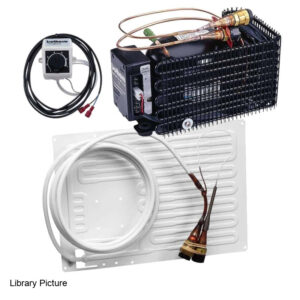 Isotherm Cooling Unit - FridgeEach "fridge" in the cooling unit range comprises:
Compressor
Evaporator Plate
Controller
*** NB - The units on this page are FRIDGE-ONLY units. ***
The size of plate and compressor will depend on the space you have available - and the choices given are the maximum size for that particular unit. You can select the required size using the options.Using the options, you can also select the Voltage (DC or AC/DC), the cooling method (in this case Air-Cooled or Self-Pumping).All of the Isotherm Fridge Cooling Units are controlled using a mechanical thermostat (see picture).You CAN control your fridge using
Intelligent Temperature Control
(Isotherm's digitally controlled option) but this requires a
dual thermostat
.
Showing the single result