Showing the single result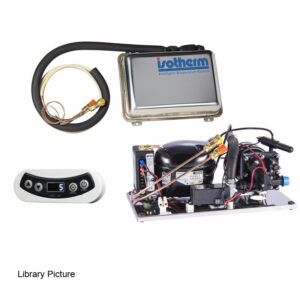 Isotherm Cooling Unit - Fridge-FreezerEach fridge-freezer in the cooling unit range comprises:
Compressor
Evaporator Plate
Controller
***NB The units on this page can be used EITHER AS A FRIDGE OR A FREEZER - THEY DO NOT WORK SIMULTANEOUSLY AS A FRIDGE AND FREEZER. ***
The size and type of plate and compressor will depend on the space you have available.The choices given are the maximum size for EITHER FRIDGE OR FREEZER, for each unit.You can select the required size using the options.You can also select the Voltage (DC or AC/DC), and the cooling method (in this case Air-Cooled or Self-Pumping).Isotherm Fridge-Freezer Cooling Units can be controlled using a mechanical thermostat (see picture), Smart Energy Control (see picture), Intelligent Temperature Control, or Intelligent Temperature Control Plus.
Smart Energy Control
The Smart Energy Control kit reduces power usage by maximising performance and combatting battery drain via a sophisticated processor. It monitors air temperature and stores cooling energy when a power surplus (engine running or shore power) is available - and reuses that energy before using your battery.
Intelligent Temperature Control
The Intelligent Temperature Control kit's Digital Display clearly and simply displays, controls and regulates the temperature of a refrigerated compartment from the outside.ITC reduces battery usage and maximises cooling - combined with a user-friendly display & control module. This allows you to set parameters for temperature and compressor speed at the touch of a button.It also includes Fault Display, 3 different Battery Protection Levels, and a new ECO mode which runs the compressor at the slowest possible speed.
ITC PLUS
Isotherm PLUS replaces the ASU control module with the new Intelligent Temperature Control (ITC) in combination with the Isotherm Holding Plate. The holding plate stores cooling energy for later use by "freezing" the plate and releasing it when no power is available for cooling. The ITC system charges the plate while the engine is running.
Showing the single result