Bow and stern thrusters are state-of-the-art mooring devices, with laterally operating propellers, designed to help you manoeuvre your boat in tight spaces and to get to your mooring quickly, safely and efficiently even in the most crowded marina.
Sleipner manufacture the world's most comprehensive series of bow and stern thrusters for leisure boats and smaller commercial boats, and can offer a suitable thruster for almost every boat under 160 feet.
To enable the safest and easiest installation as well as the best possible performance for a huge variety of craft and uses, Sleipner thrusters are offered in several versions to satisfy all requirements.
The size, type and use of your boat will all have a bearing on what type and specification of thruster you need.
The three main types of Sleipner thruster are:
Tunnel Thrusters 
Retractable Thrusters
External Thrusters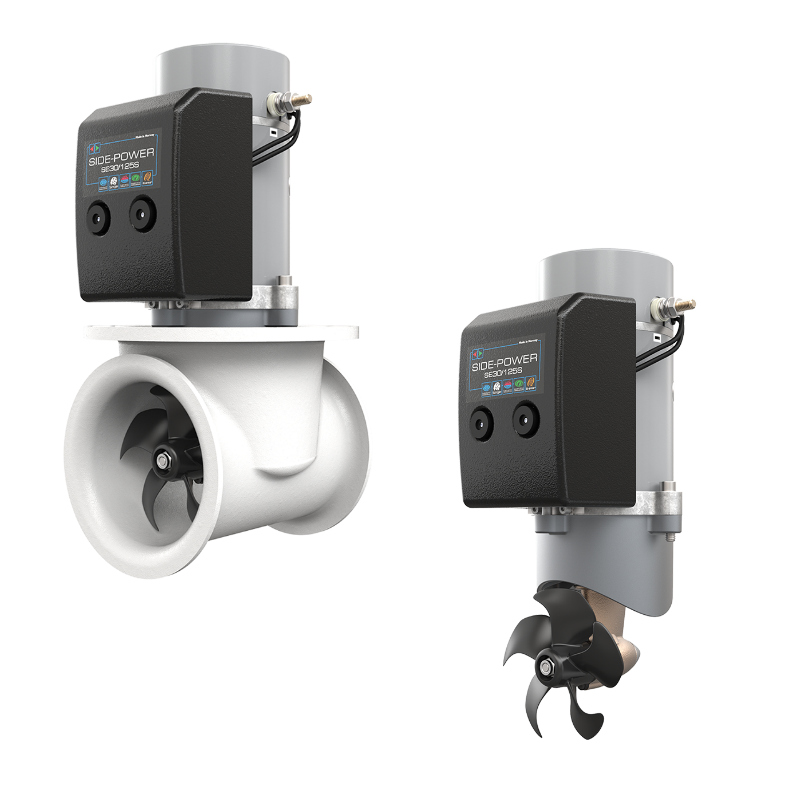 Sleipner Tunnel Thrusters
Most tunnel thrusters made by Sleipner and supplied by JPC Direct can be fitted either as bow thrusters or stern thrusters, or in some cases, both – with a full range of sizes dependent on the size of your boat.
These are the most commonly used type of thruster, with the "tunnel" installed at right angles to the boat, with the propeller in the centre to provide sideways thrust (see right, above )*
When used as a stern thruster, they are fitted differently, with a specially designed pod to maximise efficiency (see right, below )**
The three different series of tunnel thrusters supplied by JPC Direct are the SE Series, one of the bestselling series on the market – The SE Series (IP) an "Ignition Protected" version of that series for use with gasoline engines and in hazardous conditions, and the EB Series – a slightly less energy-efficient but more compact option.
Bow Thruster Installation*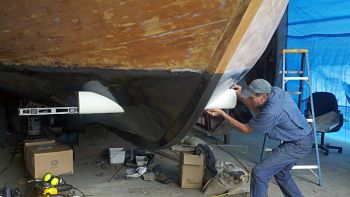 Stern Thruster Installation**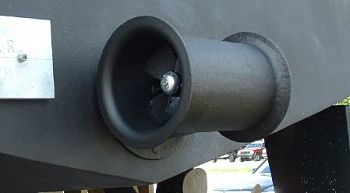 Sleipner Retractable Thrusters
For boats that can't fit a tunnel thruster or don't want an external thruster under the boat, then a retractable thruster is the solution.
Sleipner have designed a product range that is focused on practical sturdiness, assured safety and easy fitting.
There are three versions of the retractable thrusters, one model design for direct mould-in, and two designed to be mounted on a flange.
The flange can be a mould-in base from Side-Power, or the boat builders can manufacture their own base in materials suited for their hulls or as part of their basic hull design.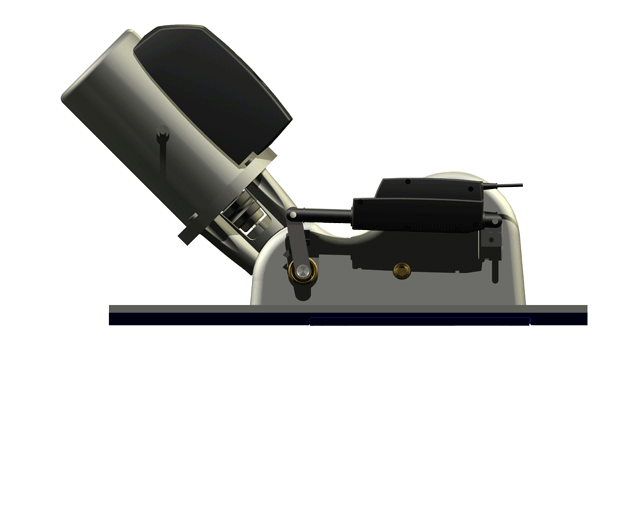 Browse Sleipner Retractable Thrusters
Sleipner SR80 Retractable ThrusterThe SR80 Retractable Thruster is designed for use on boats of 35 to 48 feet.For boats that cannot fit a tunnel thruster or do not wish to have an external thruster under the boat, then a retractable thruster is the solution.
Sleipner External Thrusters

The externally mounted pod-based EX Series is a practical thruster solution for displacement and semi-planing boats between 6 and 18 metres in length, irrespective of hull form, hull material, propulsion or depth. These pod thrusters are an excellent option when a tunnel thruster cannot be fitted, or as an extremely compact and efficient stern thruster.
The EX Series can be used in all types of vessels, from sailing boats and catamarans, to motorboats and houseboats constructed from steel, aluminium, wood or GRP. The flexible mounting at the extreme bow of the boat hull allows a deeper position underwater, creating greater leverage compared to conventional thrusters. Essentially, they can move larger boats using less power.
Browse Sleipner External Thrusters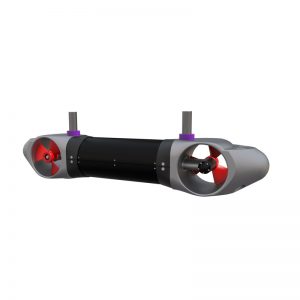 The Sleipner EX180D 24 Volt Dual External Thruster is designed for boats of 29 to 38 feet.These pod thrusters are an excellent choice where a tunnel thruster cannot be fitted for any reason.
Sleipner Technology Explained