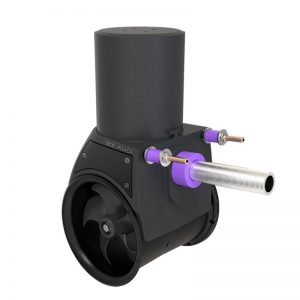 Sleipner SX35 External ThrusterThe SX35 External Thruster is one of the latest external thrusters from Sleipner.It is the world's most compact external thruster, and can be fitted in any hull shape or material.The SX35 is perfect when the layout does not allow a standard installation.Lower production costs make it excellent value for money.Suitable for boats up to 11 metres/37 feet.
SX Series thrusters are designed for boats with twin stern drives. They use special cowls to enable good performance. This works by diverting the water flow past the stern drive legs.
The units are pre-assembled, wired and sealed in a waterproof box. Just a small hole in the boat's transom to attach the power and control cables is needed. The cable connection points are fully sealed. They are Ignition Protected and can be installed in petrol powered boats.