Isotemp Slim 15 Water Heater
Even the most compact water-cooled marine engine discharges large amounts of unused hot water.
By setting up the engine to move water through your water tank, you can provide your boat with proper hot water. These water heaters will heat the water within 20 minutes of starting the engine, and can stay hot for up to a day.
---
Isotemp Marine Hot Water Tanks
---
Isotemp marine hot water tanks are specifically designed for the use on yachts and boats. Only high quality components are used, to ensure the best product performance. These tanks are sturdy and insulated to keep warm water available at all times.
The three main Isotemp models are the Basic, Slim (shown below)and Spa models. Both the water tank and external cylinder are made of stainless steel in Basic and Slim models. The Spa range has the same internal tank in stainless steel, and a foam outer casing to insulate it.
---

---
Isotemp Stainless Steel hot water heaters are specifically designed for marine use.
The key feature is a brushed stainless steel cover and a high-grade stainless steel inner tank.
All tanks have a two-year warranty when purchased from JPC Direct.
---
Isotemp Marine Water Heaters – Model Sizes
---
The Basic models are 395mm in diameter.
The Slim models are 295mm in diameter.
The Spa models are 310mm and 390mm in diameter.
Basic and Spa are shorter with the Slim being longer. You can find specific dimensions of each type of tank on the chart below.
Both Isotemp Basic and Isotemp Slim hot water heaters come with a brushed stainless steel cover as well as innovative design.
They achieve the highest possible capacity via the best installation of the engine water heat exchanger as well as the immersion heater.
The Basic line has a larger diameter (16 inches) and shorter length.
---
Specifications of the Isotemp Slim 15 Calorifier Tank
---

---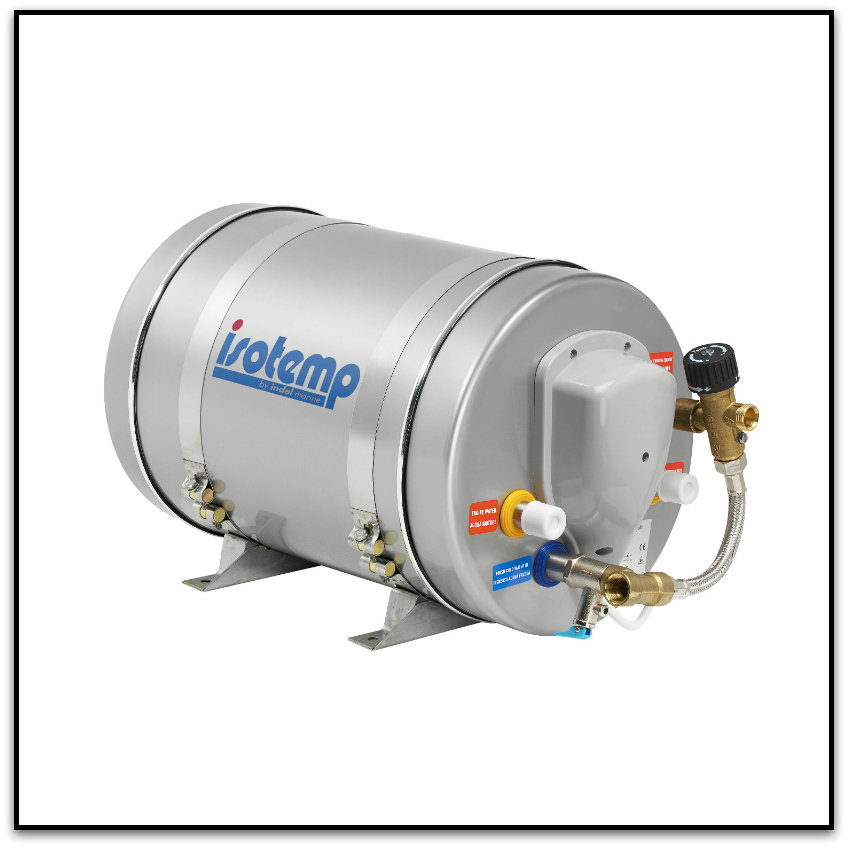 ---
Features of the Isotemp Slim 15 Hot Water Tank
---
Extra long coils
Special 7.0 bar / 100 psi safety valve
Simple winter drain
Thick insulation
Plug and play immersion heating element
Thermostat mixing valve can protect against scalding and deliver consistent temperatures
Standard 750 watt immersion heating element heats water quickly but will not overload generators or dock breakers
Robust design
Stainless steel water tank
Stainless steel external cylinder
Stable fixing feet
Horizontal deck or bulkhead mounting
Vertical bulkhead mounting (valves down)
---
---