The Fischer Panda 5000i Neo Generator
Fischer Panda in Germany have been manufacturing generators since 1977, and Fischer Panda UK have been representing the product range since the early 1990s. Initially starting as an installer and supplier of marine generators, they quickly realised that the modern day boater was aiming to be completely independent whilst at sea. Now, they also produce air conditioning and water makers, for the complete independent sea-going package.
---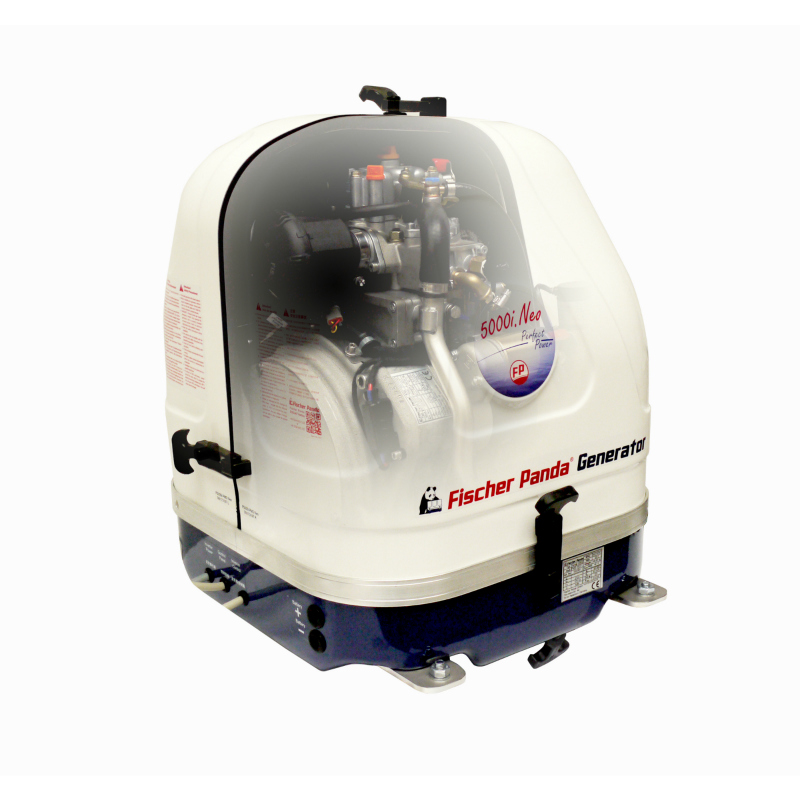 ---
Fischer Panda Iseries generators
---
The innovative new Fischer Panda iSeries Generators use variable speed technology which allows the speed of the engine to be regulated to match the electrical load that is drawn from the set. This results in greater efficiency, and leads to reduced fuel consumption, longer service intervals, quieter running and extended engine life. Variable speed technology also allows the generator to be significantly smaller and lighter than conventional sets.
---
Generator Speed
---
Currently, most generators on the market operate with a fixed speed of 1500 / 3000 rpm 50Hz (or 1800 / 3600 rpm 60Hz) which leads to an inefficient system and incorrectly loaded engine. By simply adjusting the engine speed to match the load we ensure the engine is always correctly loaded. With the variable speed technology, Fischer Panda are truly leading the way in this next generation of compact, super-silent and powerful generators.
---
Features of the Fischer Panda 5000i Neo
---
230V AC pure sine wave output
Nominal Output 0-4kW (5kVA)
Panda iControl2 digital display
Weight – 75kg
Dimensions (mm) L426 x W465 x H526
Sound Level – 54dbA
---
---
Download the Specification Sheet
---
---