About Webasto Air Top Heaters
With all of our Webasto Air Top heater kits, We supply a full heater kit which includes heater, mounting bracket, wiring loom, leakproof exhaust silencer, hull fitting, exhaust lagging, fitting kit, fuel standpipe, copper fuel pipe, air intake silencer and digital timer.
Webasto have been manufacturing air heaters for more than 80 years, and have been at the cutting edge when it comes to the development of fuel-operated heating technology. Many leading manufacturers and boat builders rely on the advanced design and technology of Webasto heaters.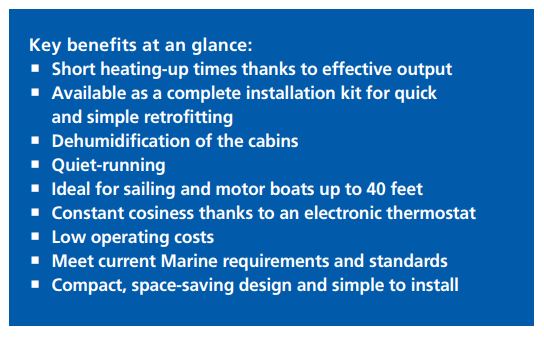 Webasto air heaters quickly deliver warm air throughout the boat via an air ducting system. They are very compact and easy to retrofit.
Webasto heaters provide continuous heating power output, ensuring constant cabin temperatures, and are economical on both electrical power and fuel.
A robust composite casing protects the unit against high temperatures and salt, and the sealed control electronics and connectors are designed to withstand the marine environment.
The quiet heater – the smallest air heater on the market. It offers excellent heat output and optimal economy.
Advantages of the Air Top 2000 STC
Heat output 0.9 – 2.0 kW (3,000 – 7,000 BTU/h)
New split marine wiring harness with two branches to battery and cabin control
Two ports for diagnosis and MultiControl
Low noise fuel pump with PWM operation
New external temperature sensor with new design
Transparent fuel hose for easy inspection (not in U.S)
Easy combination with new MultiControl
Easy to service and maintain, diagnostic capability
Full W-bus compatibility of the heater
Improved combustion air silencer reduces noise level
The smart multi mode heater. High-output, compact and quiet, the heater is ideally suited for the most rigorous re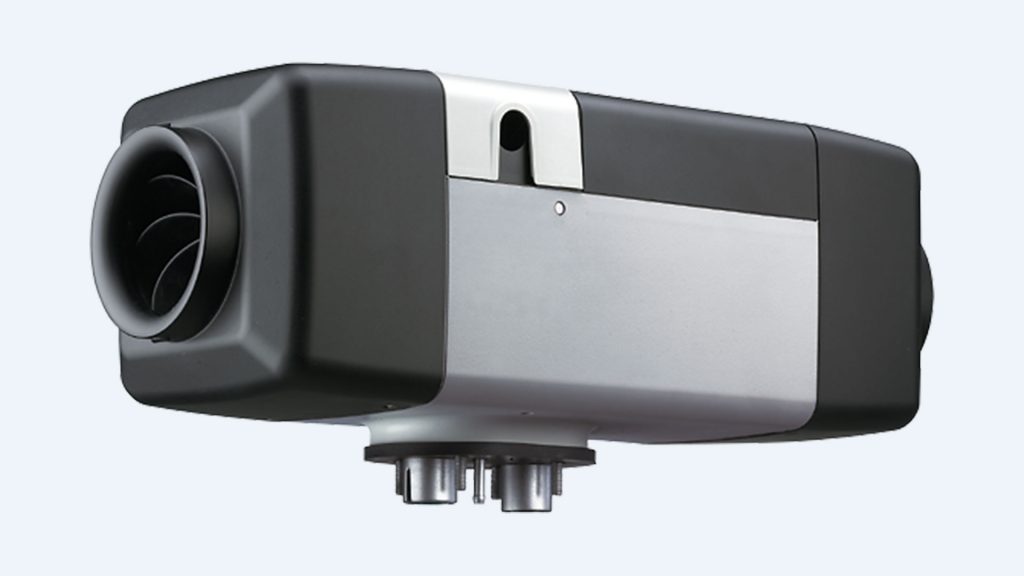 quirements. It can be upgraded with the new multi mode control panel to offer additional operation modes depending on individual heating requirements.
Advantages of the Air Top Evo 40
4.0 kW power for fast heating Very low electrical power consumption due to new
Intelligent Blower Control
New flame detection through exhaust gas temperature sensor
Automatic cold start function for quick warm-up
Improved air intake silencer
Vibration dampers for fuel line
Compatible to new MultiControl digital user interface
Very silent operation due to lower blower speed and silent fuel pump (DP42)
For extreme conditions. Extremely powerful, compact and quiet, this heater ensures a comfortable climate for larger yachts even under the harshest conditions, and satisfies the most demanding requirements.
Advantages of the Air Top Evo 55
5.5 kW power for fast heating
Very low electrical power consumption due to new Intelligent Blower Control
New flame detection through exhaust gas temperature sensor
Automatic cold start function for quick warm-up
Improved air intake silencer
Vibration dampers for fuel line
Compatible to new MultiControl digital user interface
Very silent operation due to lower blower speed and silent fuel pump (DP42)
Find out more about Webasto Air Heaters >>