The Webasto Thermo Top Evo Water Heater
---
About the Webasto Thermo Top Evo
---
The Webasto Thermo Top EVO Water Heater is the latest version of the popular Webasto Thermo Top C and E heaters. The Webasto Thermo Top C and the Webasto Thermo Top E are no longer in production, and are now obsolete, although we do still supply to a range of spare parts for these heaters and other Webasto units.
---
---
Benefits of the Thermo Top Evo
---
---
More about the Thermo Top EVO
---
The Thermo Top EVO gives 5kW of output at its maximum power. The Thermo Top Evo unit is also "variable" in its output, which means that the unit will regulate itself to its most economical and quietest output level, while maintaining heat in your boat.
The heater provides an output temperature of 80°C, which makes it ideal for use with blower matrix boxes and radiators.
All of our heater systems are supplied with a 3-year on board parts and labour warranty. This is only offered by authorised partners of Webasto. If this is not offered, then the system is not a genuine marine kit supplied by an authorised partner.
The heater is supplied as part of a full marine kit, which you can find here.
---
Contents of the Thermo Top EVO Marine Kit
---
Webasto Thermo Top Evo 5 unit with fuel pump
Mounting bracket
Water pump with wiring harness and mounting bracket
Water pipe elbow connections with clamps
Marine wiring harness
Webasto Multi Controller timer c/w mounting bezel
Exhaust pipe with leak-proof silencer, lagging and clamps
Stainless steel hull fitting
Air intake pipe with silencer
Fuel Standpipe
Fuel line with ISO7840 fuel line connectors
Header tank
---
Technical Specifications of the Webasto Thermo Top EVO series
---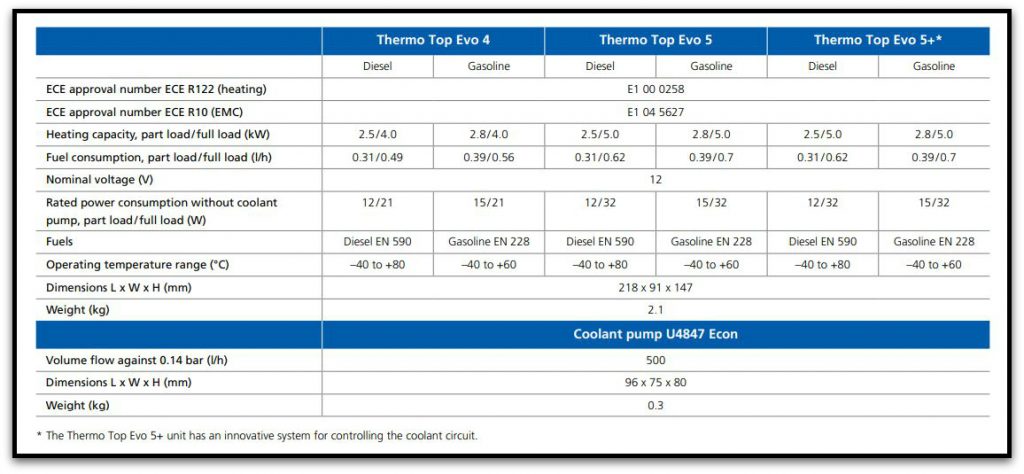 ---
---